SLO-EXO
INTERNATIONAL EXHIBITION OF EXOTIC ANIMALS AND TERRARISTIC AND AQUARISTIC EQUIPMENT
About Us
"STALGO exotic" is a Club of lovers and breeders of exotic animals. For many years we have been active in the field of teraristic and aquaristic. In the year 2010 we had the idea, to organize the first international fair of exotic animals in Slovenia. In October, we successfully carried out the first SLO-EXO at the Ljubljana exhibition center. In the last years, we have carried out more than 10 such events.

In 2013, we presented the SLO-EXO expo also in Maribor. We achieved even better result, than the first Fair in Ljubljana.

In the future, we will present SLO-EXO also in Koper-Capadistria near the Italian Border.
What is the SLO-EXO expo?
SLO-EXO is the only international teraristic and aquaristic expo in Slovenia. On more than 200m2 exhibition and sales area are present more than 40 exhibitors and breeders from Europe They sell all sorts of exotic animals, equipment for teraristic and aquaristic, fish, books and other products connected with this hobby.
Why visit SLO-EXO?
The visitors can see various types of exotic animals and by them.
You will get relevant informations from professional animal breeders, who will be happy to advise you.
You will get all needed documents' for all animals.
The entire equipment required for this hobby is available.
A large selection of live food for reptiles at very low prices.
The possibility of comparing prices and quality products. A wide range of products will be presented.
Pets are from appropriate and high-quality breeding.
Wide selection of animals, which can't be bought in the regular shop sale.
You can get all information regarding the legal expect of this hobby.
You will have the opportunity to meet experts from this field, clubs, etc.
You can by appropriate literature.
Is SLO-EXO also interesting if I am not an expert in this area?
Of course.

The fair is suitable for anyone who is interested in this type of animals, for those who want to see amazing species of exotic animals, or even to overcome your fear of these animals. On 200 meters of selling space, exhibitors will present the entire sales program for the hobby of terraristic.

The fair is suitable for children over the age of three. So many different species of animals, can't be seen anywhere else in Slovenia.

Exhibitors will present different types of:


Reptiles: snakes, lizards (including chameleons), turtles, venomous snakes.
Amphibians: frogs, tree frogs, newts.
Spiders: tarantula, various spider species,
Scorpions: various species,
Insects: bugs, insects, praying mantis, beetles, various family's of bubs.Centipedes and skolopedre.
Rodents: hamsters, mice, pet rats, guinea pigs, rabbits, chinchillas, various rats, dormice ...
Other animals: snails, crabs, shrimp.
Various types of fish, crustaceans and aquatic plants.
Food for animals of all kind: crickets, grasshoppers, flies, Drosophila, Zophobas, cockroaches, mice and rats.
Glass terrariums and aquariums in all sizes (possibility of ordering custom). All necessary equipment.
Exotic plants - cacti and other succulents, bromeliads, orchids, epiphytes, ferns, mosses, exotic houseplants. ,,
Other: Basis for terrariums, roots, bamboo, soil substrates, lighting, heating elements and hydration, decorative wall panels, steering systems, cage literature, ect,

ALSO: Used equipment.

Additional offer:For dogs, cats; food, toys, base and everything else you need for your pet at fair prices.

You will also get free advice and all necessary information on the presented animals, from breeders and clubs. In Slovenia, you will not find a better way to learn that much about the animal you would like to have, at just one place. Also, prices on SLO-EXO are much lower than in regular sale.

Each visitor may demand a document for the bought animals, even if it is not legally required in Slovenia. That how you can prove the origin of the animal in the future. It is called:
CETRIFIKAT OF ORIGIN OF ANIMALS
TICKETS
Adults: € 8
Children from 4 to 12 years: € 5
Children up to 4 years: Free entry!
SLO-EXO-shirt: € 6
Additional discount!
If you order a SLO-EXO T-shirts, you get 1 EUR discount on the package (shirt + tickets): 12 EUR (click to order)
Entry at your own risk!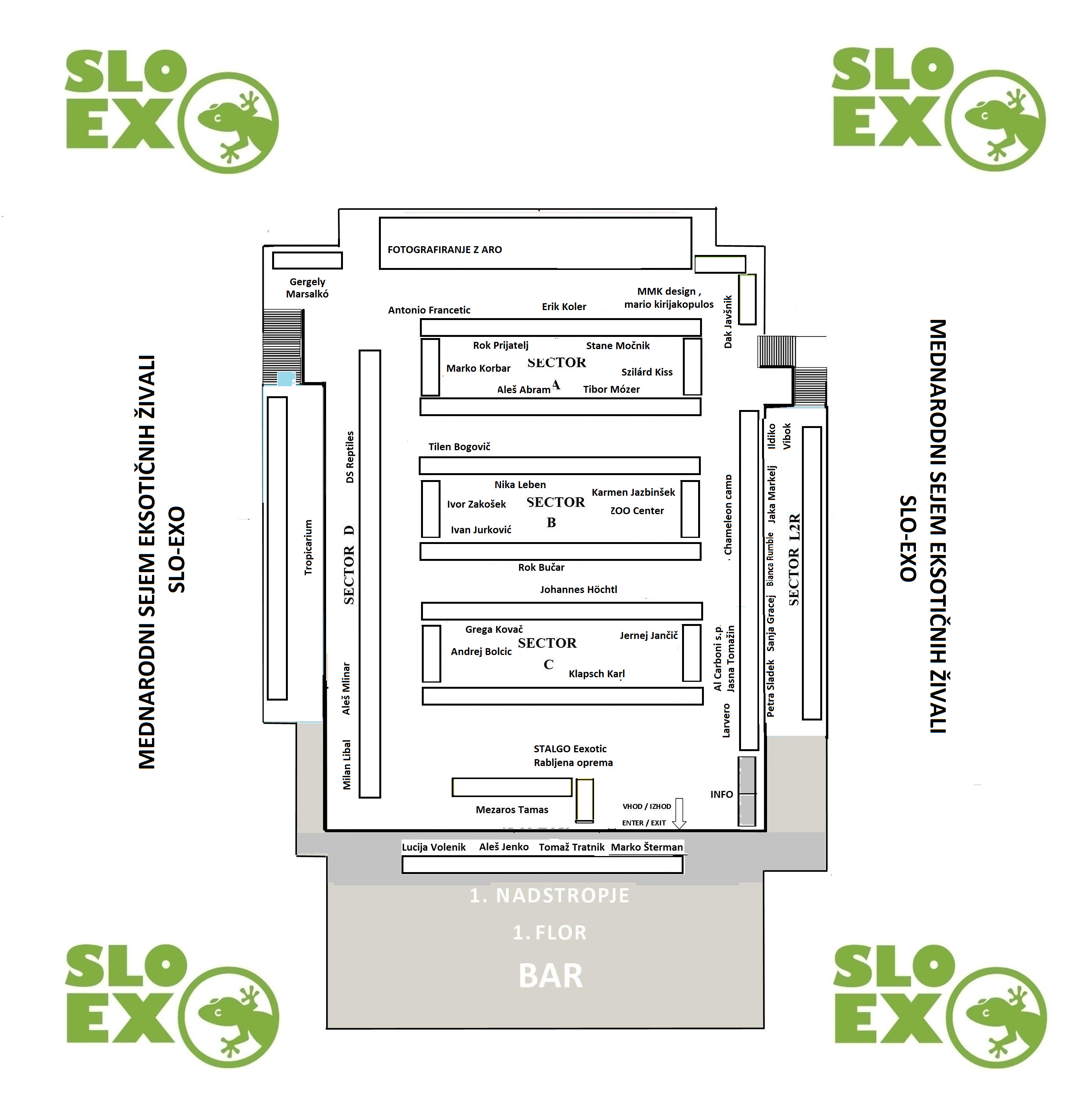 CONTACT INFORMATION
Our location; Festivalna Dvorana Lent, Loška 13, Maribor.
If you have any questions or you can't find us, you can always reach us on the telephone number +386 (0)40 744 882 or slo.exo@gmail.com